Contact Us for a FREE Estimate!
Click Here
New Home Construction
Custom Home Construction
Shops & Garages
Excavation
Drain Field Sewer Systems
Skidloader/backhoe services
Logix ™ Insulated Concrete Forms (ICF) Sales & Installation
Excavation, Skid Loader, Drain Field Sewer Systems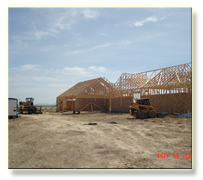 Garages and Shops
Hagen Construction can work closely with you to create a space designed specifically for your needs. Whether you're looking for additional storage space or want to create a shop for your business or hobby, Hagen will build to suit.
Excavation and Skid Loader & Road Grader Work
Hagen provides full-scale excavation work. We can excavate foundations, create ponds, dikes, or build and maintain roads.
Drain Field Sewer Systems
We provide planning and installation of drain field sewer systems. To discuss this or any of the other services listed about, please contact us at
406-799-8513
.
We serve Missoula, Lewiston, Conrad, Helena, Shelby, Cut Bank and everywhere in-between.